This is a series on my 2014 outlook of players you would want to have on your Paper Pigskin team (fantasy football). What you'll find here are my views based on years of playing experience and countless hours of geeking out researching stats, trends, and film. I'll advise where to reach and whose hype not to believe.
SAN DIEGO CHARGERS – Passing 271 ypg Rushing 123 ypg
The Chargers offense was balanced and highly efficient in 2013. Mike McCoy and Ken Whisenhunt tailored the scheme to their personnel and Phillip Rivers's career was given new life. This is both a quality and run-first offense; the team's running game will be improved from last season with the acquisition of power runner Donald Brown. The threat of an effective running game always shrinks the defense, keeping them off-balanced.
QB: In 2013, Rivers had career highs in both completion and completion percentage (69.5%). According to NumberFire, only 47% of his passes were thrown to wide receivers, injury and lack of talent could be the reason for that; Malcom Floyd, who had been his big play receiver in previous years returns to the fold, will be ripe for big plays off of the run action. I expect more of the same form Rivers this season and maybe more yardage.
RB: Ryan Matthews
is the lead back in this run heavy offense. He totaled over 1400 yards
last season, barring any injuries he should finish among the top 15 at his position. The only thing holding him back from the top 10 will be touchdowns; for as prolific as San Diego was, Matthews only scored six touchdowns.
If you play in a PPR league,
Danny Woodhead
is a must own player. Woodhead was second among running backs with 76 receptions to go on top of his 106 carries, which lead him to produce over 1000 total yards and 8 touchdowns; those number rival that of Keenan Allen's. Woodhead is getting drafted as the 37th RB, he should go at least 10 spots higher in PPR leagues.
Donald Brown had a great camp, by all accounts, but is slated for grunt work such as picking up blitzes and pounding into the pile on short yardage situations.
WR: Keenan Allen has shown more speed in practice, he's already a polished route runner that gets good separation and find open holes in the secondary. Being able to run faster will only enhance his big play ability. Allen was the offensive Rookie Of the Year and hardly got on the field until the fourth game of the season. His numbers should trend upwards; he should be a high-end WR2. His WR13 ADP seems fair.
Malcom Floyd's 6'5" frame will always make him a nice red zone target. He has flashed sure hands and playmaking ability before but had never really been a viable fantasy option, but if he's the one Rivers is looking for in the end zone, he can be a sneaky flex play. He's at WR68, but most likely will be touchdown dependant.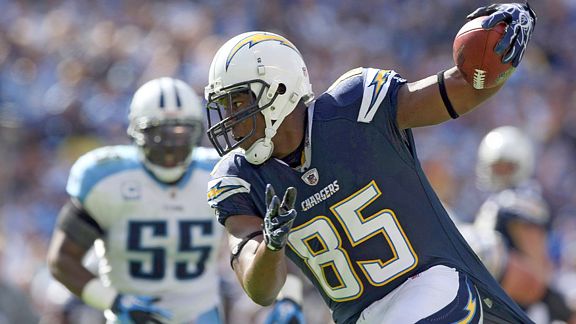 TE: Ladarius Green appears to have taken another step in his development after showing the ability to create big plays last season. However, Antonio Gates is still the man on his team and will remain on the field in single tight sets because he's a good blocker, an experienced route runner, and his sure hands make him a dependable target. The Chargers are surely transitioning towards the explosive Green but he's not there yet; there might be games where he puts up huge numbers, but owners will be upset at the duds. Gates's ADP is TE 13 and Green's is TE16, as you can tell I prefer the former but will be extremely happy if I can get Green as my backup and wait for him to pop.
Def: San Diego finished with just 17 turnovers in 2013 regular season, that was the third worst in the NFL. However, they forced six turnovers during the postseason, second only to the Seattle Seahawks.