This is a series on my 2014 outlook of players you would want to have on your Paper Pigskin team (fantasy football). What you'll find here are my views based on years of playing experience and countless hours of geeking out researching stats, trends, and articles. I'll advise where to reach and whose hype not to believe.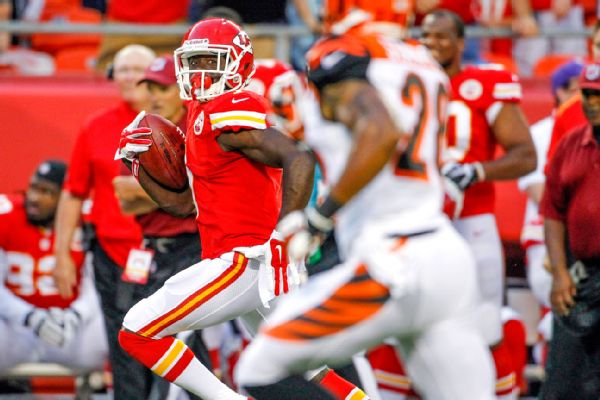 Run DAT might be that other weapon the Chiefs desperately need.


AP Photo/Colin E. Bral
KANSAS CITY CHIEFS -
Passing 209 ypg Rushing 129 ypg
If you weren't lucky enough to land JC Superstar last season, the Chiefs defense for the first half, or Alex Smith for the 2nd half, then I forgive you for not realizing the potential of this unit. Andy Reid's West Coast system usually provides opportunities for points, hopefully 2014 we'll see some of that potential come to fruition.
QB: Alex Smith gets slandered on social media sites for being mediocre or just a game manager, even though there is truth to the latter, he also orchestrated one of the NFL's top passing games over the season's last several games; throwing for 14 touchdowns between weeks 11-15. In the 2nd year with this team and coach, better chemistry should develop. However, there isn't a single weak passing defense on the schedule for KC. His ADP is QB19, ahead of three quarterbacks I rather own.
RB: Jamaal Charles is their offensive engine; he did everything for them including painting the yardage markers at Arrowhead stadium on game days. Coach Reid, according to USA Today, said "he's comfortable if Charles receives 320 touches for the third straight year." Reid is confident because of the way Charles has taken care of his body. If that holds true, JC Superstar should be a lock for another top 3 finish at the position. Knile Davis is Charles' main backup, his ADP is RB61. KC should be able to thrive if they choose to give Charles rest or if he goes down, however it won't be because of Davis...
De'Anthony Thomas, running back, should be a high priority for return yardage leagues, has the skills to be a great punt returner. Run DAT is lightening fast, and the Chiefs can use him in a variety of ways in search of favorable matchups. On top of being the Chiefs' main punt returner when the regular season starts, the Chiefs will find ways to get Thomas involved on offense, too. He's been lining up at a various times as a running back, slot receiver and wide receiver. His ADP is RB68, I'm doing the best I can to have him on all my teams because he'll be fantasy gold if Charles gets injured; I suggest you do the same if you have room on your roster. According to Run DAT he's "a player that nobody's ever seen step on the football field,"
WR: This unit for Kansas City has been weak for some time now. Their starting RB led the team in all receiving categories. I suppose I should mention Dwayne Bowe was once fantasy relevant and is still being drafted by those hoping he finds his mojo. Bowe's ADP is WR38, draft at your own risk. Donnie Avery masqueraded as a starting caliber football player twice last season also.
TE:
Tight ends
Travis Kelce
and Anthony Fasano are injury prone players that look good so far in camp. Fasano is mainly a blocking TE, Kelce flashed paper pigskin point potential for the season with a 69 touchdown catch in the first preseason game.
Def: This was the best unit in fantasy football through the first 9 games of the season, then the bye week hit and all of a sudden injuries and leakage ensued. They let their two starting corners go elsewhere in the offseason. They still have an elite line backing unit though.