This is a series on my 2014 outlook of players you would want to have on your Paper Pigskin team (fantasy football). What you'll find here are my views based on years of playing experience and countless hours of geeking out researching stats, trends, and film. I'll advise where to reach and whose hype not to believe.
GREEN BAY PACKERS - Passing 267 ypg Rushing 134 ypg
The Packers are a well-oiled machine on offense that has typically used a high powered West Coast passing attack over the years but lacked a run game. Their star QB missed seven games with a collar bone injury, and during that time, the team unearthed an element to their game that they have been lacking. Now head coach Mike McCarthy has the balance that he's always wanted. As opponents have to pick their poison, you as a Paper Pigskin player get to choose your remedy. This team is going to be a headache to prepare for.
QB:
You'll have trouble finding a quarterback that has consistently been as efficient as
Aaron Rodgers
in this era. Rodgers has an amazing 3.6 career touchdowns to interception ratio. McCarthy has tweaked his philosophy slightly and has Rodgers orchestrating the game plan at a higher tempo which can lead to a career high in pass attempts; with Rodgers' track record in mind, we're likely to see a career high in completions, yards, and touchdowns as well. He's easily a top three selection at this position.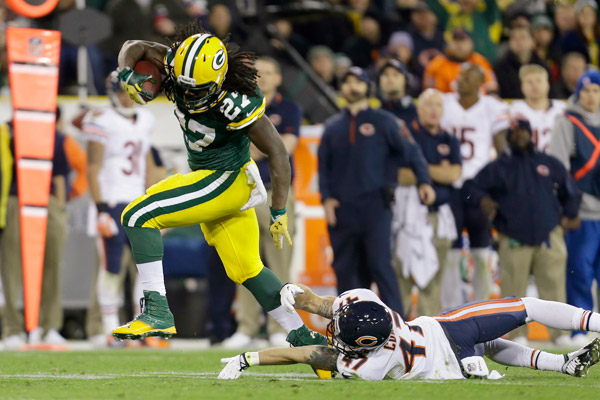 RB:
Expectations are high
for the Packers running game.
Eddie Lacy
finished as the sixth best running back in standard scoring last season, while playing in only 14 games and facing an extra defender in the box for half of those games because of guys named Tolzien and Flynn being his quarterback. Lacy destroys tacklers once he gets into the 2nd level; he'll be seeing nickel and dime defenses with Rodgers healthy. There will be more goal line carries for him this year that might enable him to double his 11 tugs of last season. I'm pegging Lacy to finish as one of the two best running backs this season. Consider it a gift when he lands in your lap anywhere after the 4th overall pick.
WR: There are few wide receivers in the league that has accomplished as much as Jordy Nelson have with his low target count; only Josh Gordon and Desean Jackson bested him among receivers with over 80 targets. Nelson should have more room to run free through the secondary with defenses having to pay attention to the run, thus increasing the play action opportunities for Rodgers to throw over the top to Nelson. I value consistency more than anything, and Jordy rarely lays an egg. Feel confident taking him at his WR7 price and don't look back.
Randall Cobb is ultra quick and is a dependable target for Rodgers who boasts a high catch rate, making it easy for the Packers to move the chains when he's found in the middle. He has the ability to take any play to the house. When utilized in the slot, he's usually lined up against a subpar defender, whose ripe for exploitation. However, he'd have to see a lot of passes thrown his way to be worth his WR10 ADP.
Jarrett Boykin
is the 3rd WR on the depth chart, which shouldn't be frowned upon because 3-wide sets are the Packers' most common formation. He stepped up as last season's WR2 when injuries befell this squad.
Boykin
should definitely be drafted just before his current WR55 ADP. Just to exhibit this team's depth, I have to mention that Davante Adams made a strong run for the 3rd receiver spot behind Nelson and Cobb. Some in the organization have praised the smoothness of his routes, saying he cuts in and out of breaks with ease reminiscent of Greg Jennings.
TE: Not much to be excited about here yet. Richard Rodgers is a big and athletic pass catcher but his blocking needs to catch up to his receiving ability for him to stay on the field.
Def: This team was pretty horrible last season, and now they'll be missing BJ Raji for the entire season. The addition of Julius Peppers should help the pass rush some. They don't have an easy schedule but there are some opportunities to stream them.